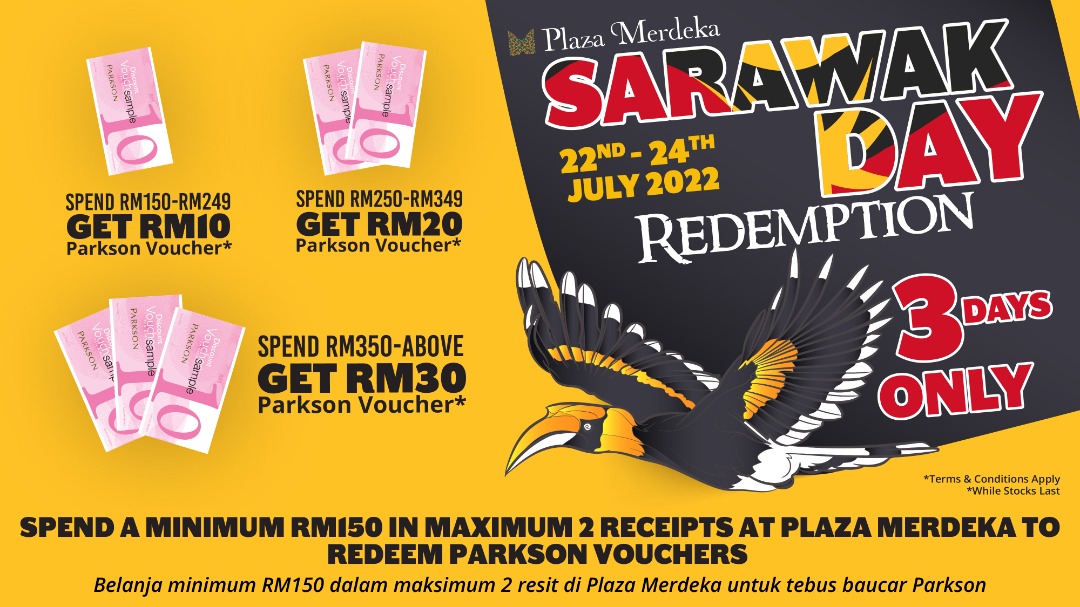 21 Jul

SARAWAK DAY VOUCHER REDEMPTION | Plaza Merdeka

S A R A W A K  D A Y

V O U C H E R

R E D E M P T I O N

Spend a minimum RM150 (maximum 2 receipts)

|| 22nd-24th July (Fri-Sun)

T&C:

1. Redeem at Redemption Counter, at Ground Floor from 10.00am – 10.00pm only.

2. Receipts of bill payment, card reloads, and installment plan payments, transaction from banks, money changers, and purchase of gift card(s) or any form of cash/shopping voucher are strictly NOT eligible for redemption.

3. Only original receipts from purchase made at Plaza Merdeka on the same date as stated on the receipt are accepted.

4. Limited to two (2) redemption per customer, per day.

5. Shoppers are required to complete e-redemption form before redemption.

6. No photocopies of forms and receipts are allowed.

7. Items availability is while stocks last.