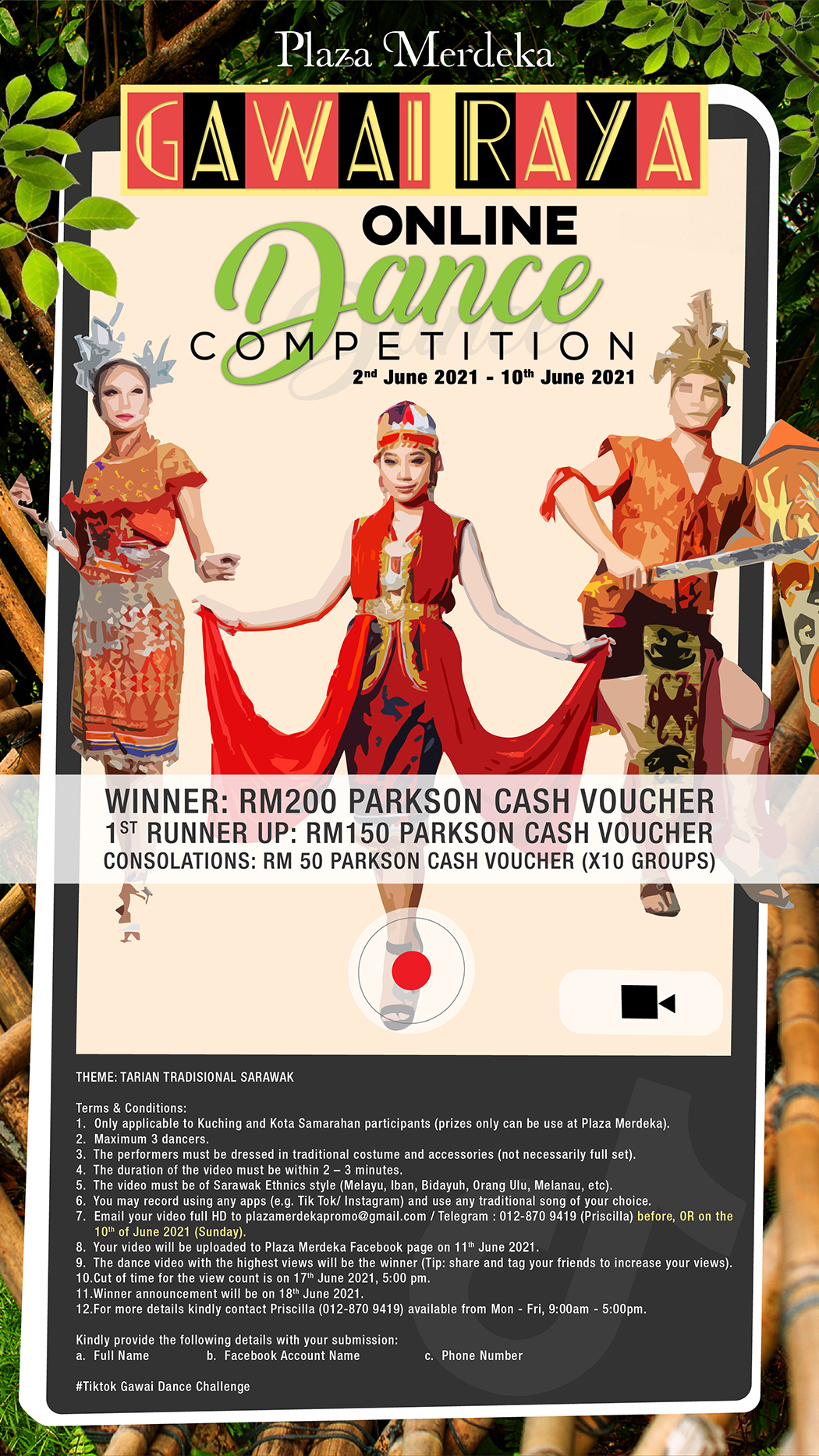 06 Jun

'TARAIN TRADITIONAL SARAWAK' CONTEST | Plaza Merdeka

Let's dance!

Let's join the online dance contest!

Nice prizes await you

#Stayhome

Have a

#safe

Gawai and entertain with some traditional dancing. Capture on video and send it in for 'Tarian Tradisional Sarawak' Contest for a chance to show off your celebration and you could win a prize too.

Terms & Conditions:

1. Only applicable to Kuching and Kota Samarahan participants (prizes are redeemable at Plaza Merdeka only).

2. Maximum 3 dancers.

3. The performers must be dressed or accessorized in traditional costumes.

4. The duration of the video must be within 2 – 3 minutes.

5. The video must be of Sarawak Ethnics style (Melayu, Iban, Bidayuh, Orang Ulu, Melanau, etc).

6. You may record using any apps (e.g. Tik Tok/ Instagram) and use any traditional song of your choice.

7. Email your video full HD to plazamerdekapromo@gmail.com / Telegram : 012-870 9419 (Priscilla) before, OR on the

10th of June 2021 (Sunday).

8. Your video will be uploaded to Plaza Merdeka Facebook page on 11th June 2021.

9. The dance video with the highest views will be the winner (Tip: share and tag your friends to increase your views).

10. Cut off time for the view count is on 17th June 2021, 5:00 pm.

11.Winner announcement will be on 18th June 2021.

12.For more details kindly contact Priscilla (012-870 9419) available from Mon – Fri, 9:00am – 5:00pm.

Kindly provide the following details with your submission:

a. Full Name

b. Facebook Account Name

c. Phone Number

Let's DANCE!